'Do You Hate Me?': High School Teacher Shares Wild Emails He Receives From Students
Jordan Baechler teaches high school students in Ontario, Canada.
Teenagers, especially Gen Z, can be rather blunt when it comes to speaking to figures of authority — and now a high school teacher in Canada is going viral for showing just how wild the teens' emails can be.
Teacher Jordan Baechler, also the school's basketball coach, revealed the hilarious (and real) emails he receives from students on TikTok in two videos that have garnered 21.4 million views combined.
In the first video, he makes a gallery of screenshotted emails (omitting the students' names) that start comically in nature but end up downright deranged.
From one basketball player claiming he can't come to practice because he has diarrhea to one student emailing Baechler mid-class asking him to shut the blinds, nothing seems to be off limits.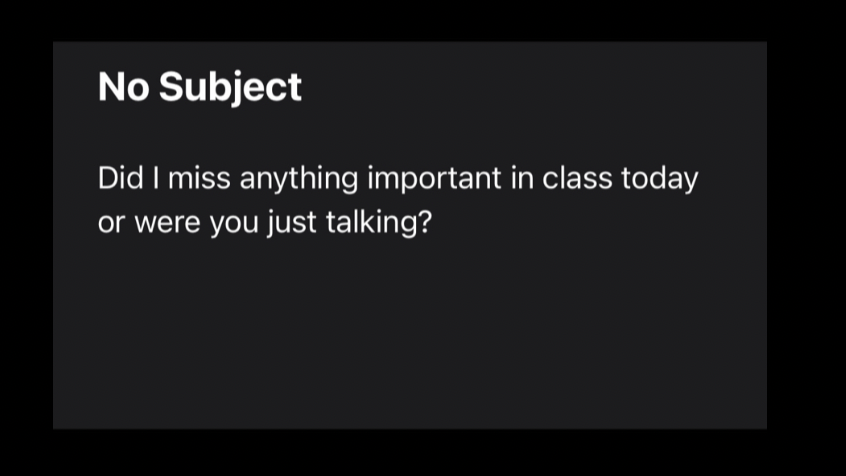 Screenshots of emails that Baechler received (via TikTok)
"Imagine how awesome it would be if you like haha pretended I didn't get that one question wrong and like haha took off one mark," one student penned.
In the second video, the teacher shares screenshots of one student reminding him that SZA tickets are on sale the next day while another begs him to "not make a scene" in warning Baechler that he would be late to class.
Screenshots of emails that Baechler received (via TikTok)
"Keep this up and no Christmas card for you," one student ominously wrote.
Commenters were equal parts amused and horrified by the brazenness of the students' commentary toward their teacher, let alone in permanent format via email.
"You MUST be chill because I wouldn't even DREAM of sending emails like these to my teachers back in the day," one viewer said next to a crying face emoji.
The times have certainly changed.
According to Linkedin, Baechler works for the Halton Catholic District School Board in Ontario, Canada.